Third party Mastodon, PeerTube & Fediverse app, free open source software, available from Google Play (paid) ⧉ & F-Droid (free) ⧉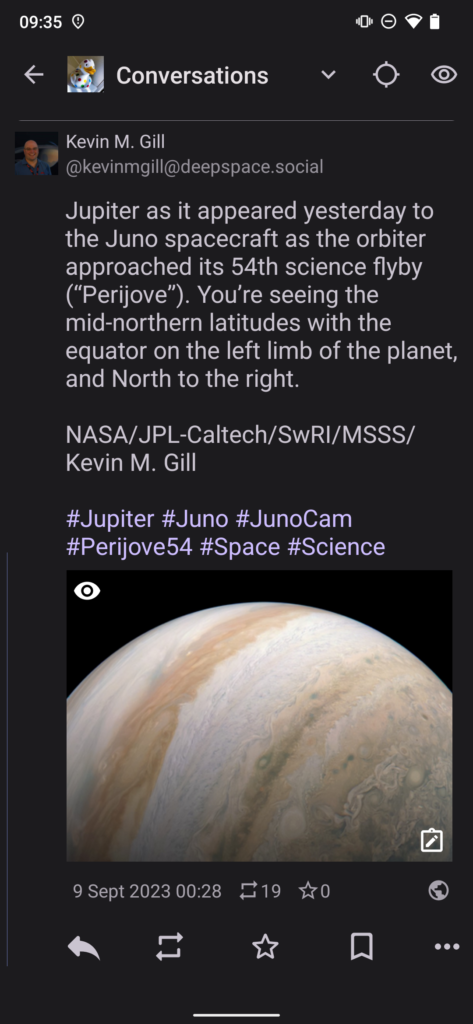 General impressions
At first glance appears to be pretty standard, but once you start going through the options and settings there is so much more under the surface. Many, many useful features and good support for non-Mastodon Fediverse servers. It's not the best-looking app, but that doesn't matter because it does lots of things other apps cannot do.
Nice stuff
All the standard extras available the web interface such as post editing, pinned posts, hashtag follows, lists, filters, trending tags, trending posts etc.
All the timelines (Home, Local, Federated, Explore) are there, as are all the visibilities (Public, Unlisted, Followers-Only, Mentions-Only and Local-Only (for servers that support local-only posts))
Free open source software
Allows users to be muted just on home timeline while still appearing on lists, which is great for creating multiple separate timelines from the same account. (Also, you can set lists to automatically include home muted users.)
Scheduled posts and scheduled boosts, including boosts of own or others' posts
Post drafts, automatically asks you if you close a message without posting it
Built-in translation, built-in dictionary and spell checker
Good support for non-Mastodon Fediverse server types including Pixelfed, PeerTube, Friendica etc. Also includes support for extra features on Mastodon forks such as Glitch and Hometown.
PeerTube interface is particularly good, allows all the options from the web interface including uploads, and Fedilab can easily be used as a dedicated PeerTube app
Customisable timeline and interface options, colour themes, adjustable text and icon sizes.
Conversation thread maps
Lets you fetch data from remote servers which allows conversations and profiles to be updated with information that hasn't federated to your server yet.
Optional privacy features for links such as UTM stripping, and using alternative frontends for links to popular services (for example Nitter to view Twitter links, Invidious to view YouTube links etc).
Lots more options such as automatic cache clearance.
Not sure one way or other
Fedilab is a paid app on Google Play but free-of-charge on F-Droid. This is as the developer wishes to encourage people onto alternatives to Google Play.
Potential drawbacks
Some of the formatting could be slicker and neater, for example metadata tables on profiles look a bit messy
Some English translations slightly odd, such as "trending messages" when it means trending posts
Occasional weird bugs, for example the Manage Timelines page brings up a "No timelines was found on this instance" error message
Hints & Tips
Polls can be added to posts by clicking the attachment button (the paperclip) and selecting the poll icon
You can jump to the top of a timeline by double-tapping the timeline's icon