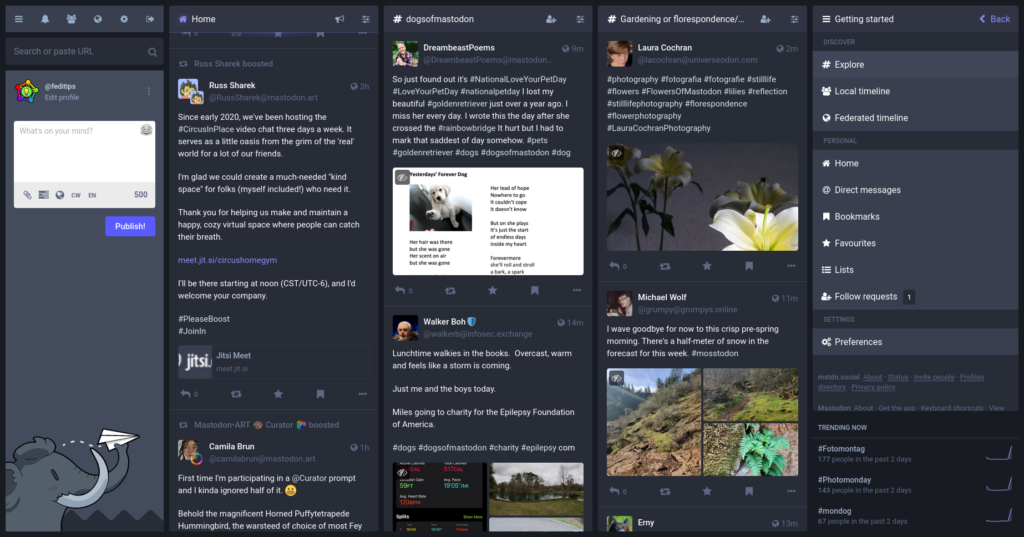 By default, Mastodon servers' websites use a simple single column interface.
However, if you're using the website through a computer (or a tablet/phone in horizontal mode) there is also an optional multicolumn interface you can use instead. Here's how to activate it:
Log in through your server's website as usual
Click ⚙️ Preferences
Tick the box marked Enable Advanced Web Interface and click the Save Changes button
Click the Back to Mastodon link at the left of the screen
If you're already in multicolumn and you want to go back to the normal single column interface, here's how to do it:
Click on the ⚙️ cog gear icon
UN-tick the box marked Enable Advanced Web Interface and click the Save Changes button
Click the Back to Mastodon link
If you prefer the normal control method using the mouse, that works fine too.
How to add more columns by using the pin feature
When you first use it, the advanced web interface only contains four columns with one of these columns dedicated to whatever you last selected. Every time you select something, it replaces the contents of this fourth column.
However, if you want to keep a column permanently visible you can pin it, and the pinned column will be added to your previous columns.
To pin a column, click on the slider icon in the top right corner of the column and select Pin
To unpin a column, click the slider same slider icon and select Unpin
When you pin a column, it expands the interface sideways, and some people have lots of pinned columns. Pinning is well suited to widescreen monitors, and you can scroll the interface sideways to see any columns that don't fit on the screen.
How to change the order of the columns
You can move a column left or right by clicking the slider icon in its top right corner and then clicking one of the < or > buttons to move the column. These buttons are next to the Unpin option.
What kind of columns can I add?
Any column with a slider icon in the top right can be pinned or un-pinned, which includes hashtag searches, all types of timeline, private mentions (DMs), Lists, Bookmarks, Favourites etc.
Advanced hashtag searches with pinned columns
If you pin a hashtag search and then click the pinned column's slider icon again, you will see some additional options which let you combine hashtag searches into the same column with special filters:
Any means it will show posts that contain one or more of those hashtags
All means it will show posts that contain all of those tags
None means it will hide posts containing those tags
Pinning accounts as new columns using Lists
You can't pin an account's profile page directly, but you can pin particular accounts (or combinations of accounts) as new columns by using Mastodon's Lists feature:
Click Lists on the Getting Started menu on the right (or click ☰ on the left if you can't see Getting Started)
Create a new list and add the account(s) you want to that list (see the guide to using lists if you haven't created one before)
Click the list you want to pin to bring it up as a new column
Click the slider icon in the top right corner
Select Pin
Using Advanced mode through your keyboard
If you prefer using just your keyboard, the Mastodon web interface can optionally be controlled almost entirely through key commands, click here to see the section on hotkeys for a complete list. These hotkeys also include some commands that only work in Advanced mode.
Why are there two official interfaces on Mastodon?
The original website version of Mastodon from 2016 used the multicolumn interface, but while some enjoyed it others found it confusing and overwhelming. Eventually a simpler single column interface was introduced, and single column became the default. The multicolumn interface was renamed "advanced" and made available as an optional mode in settings.